A mobile POS system can be a great way to save money for your business. With a mobile POS system, you can take payments anywhere, which means you don't have to pay for a physical storefront. This article will tell you Mobile POS Software.
You can also save on credit card processing fees by using a mobile POS system. And, if you have a loyalty program, you can use your mobile POS system to track points and redeem rewards. In short, mobile POS Software can help you save money in multiple ways.
Are you looking for a novel solution to cut costs at your eatery or retail shop? By eliminating wasteful expenses, a mobile POS system is the ideal approach to take control of your budget again.
All you require is an internet-connected tablet. This means more money can be spent on other elements of your business.
How Does An mPOS System Operate And What Does It Do?
A mobile point of sale, often known as mPOS Software, is a device for processing credit card payments electronically. Without having to lug around bulky equipment like cash registers, it enables you to receive payments from consumers while you're on the move.
Small businesses who wish to do business on the fly can do so with Digirestro mobile POS. Digirestro works with the Poynt Smart terminal and Poynt 5 and may be used as an Android, Windows, and iPad point-of-sale system.
A downloadable mobile app can turn any of these tablets into a POS system for small businesses. There will be several applications and features to set up depending on the type of POS system you require, such as one for a restaurant or hospitality firm.
You must first use a mobile system to determine whether or not it is appropriate for your company.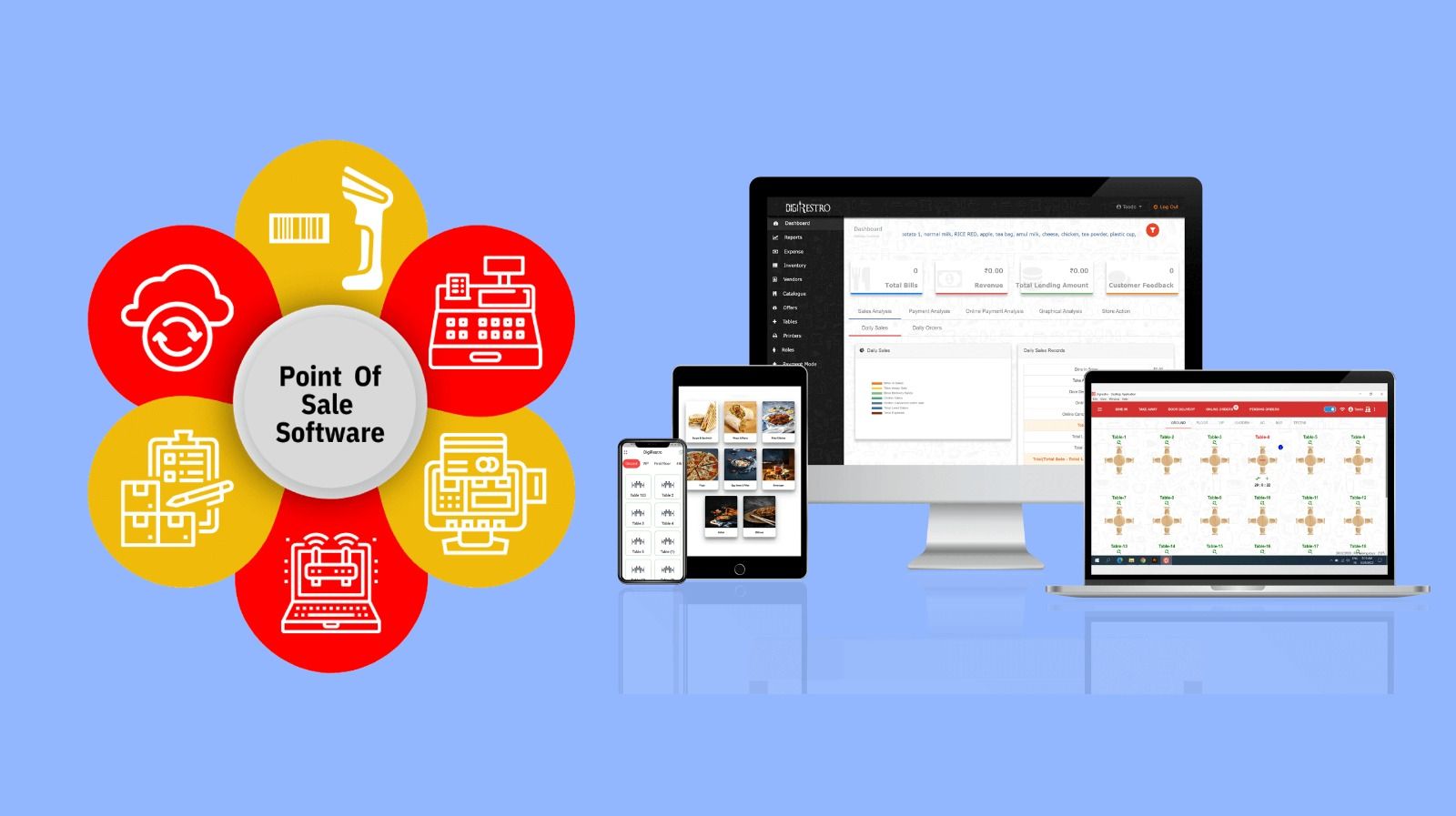 Considerations For Selecting A Mobile POS
Managers and business owners may find it challenging to choose from the many mobile POS Software for small businesses available on the market today, especially if they don't know exactly what they need from their system.
You need to take into account elements like the following in order to get the best solution for your needs:
Compatibility With Devices
Regardless of the device, you use for your business, mobile POS systems should be user-friendly and interoperable with all smartphones.
Mobile point-of-sale (POS) systems must perform in a way that is both user-friendly for customers on mobile or desktop and that offers consistent data management across various platforms.
You may process sales wherever they are needed with the help of Digirestro mobile POS, which works with iPad, Android tablets, Windows PCs, and Poynt terminals. Data is shared across all of these devices.
The mobile POS exporter offers a number of extra capabilities in addition to the regular characteristics required for conducting business, which makes its use very convenient.
Reputable Payment Options
With simplified transactions and worry-free client connections, a mobile POS System is a terrific way to boost the success of your company.
Some companies have discovered that providing clients with a simple, convenient method of payment can significantly increase sales.
With this in mind, whether or not you plan to use an mPOS system while on the go, it's crucial to consider the dependability of profile programs and ensure that security precautions are taken during payments to ensure the privacy of all data.
Digirestro provides a range of mobile, secure, and easy-to-set-up payment options. Customers are able to make payments at the highest levels thanks to the adoption of EMV chip credit card technology's level of security.
The Price Of Setup
Before making a purchase, the setup of POS Software is always crucial. You must take into account the software and hardware you plan to use, as well as other elements like your budget for setup costs, which may change depending on where you are in the beginning stages of your business.
Additionally, it's crucial to test the software on your devices before investing any time or money so that it will function as desired straight away and with no further investment needed.
You can utilize all of the capabilities of our mobile software's free edition right away in addition to testing it out. So make an investment in your company right away and stop worrying forever.
Advantages Of Setting Up A Mobile POS System?
Do you desire to be more productive and successful? The retail industry will soon use mobile POS systems. It can be used for a wide range of tasks, including customer support, inventory management, lead generation, and employee time tracking.
They are perfect for enterprises like food trucks, which are always on the move, or for home repair services, which require a dependable POS system while on the road visiting clients' houses.
Boosting sales
Both customers and businesses can profit greatly from mobile points of sale. It enables sales representatives to interact with customers in a more personal way, addressing their needs or providing answers to their inquiries.
Without making them wait in line at the checkout counter. You no longer need to wait in line at the checkout counter, spend a lot of money hiring new workers, or build brick buildings when you have mobile POS Software.
Mobility
You may do business virtually anywhere thanks to mobile technologies in retail. With mPOS, unique events like trunk shows, pop-up shops, food trucks, sidewalk sales, and tent sales are simple to plan and manage. Using a cellular network, connect wirelessly to keep your business functioning.
Reporting
No of the size of your company, data analysis must be ongoing. If you have a POS system with reporting options that allow you access to robust data processing capabilities and generate reports on demand whenever requested, you can do this more successfully.
Conclusion
The ideal option is mobile point-of-sale. It's simple to use, reasonably priced and offers great advantages to both consumers and businesses.
With mobile POS, your sales staff may interact with customers more directly, answering their queries or taking care of their requirements while they wait in line at the register.
Additionally, it enables you to handle all of your transactions on the go without having to stand in line at the checkout counter, spend a lot of money hiring new employees, or build brick buildings.
You may call us immediately to find out how much money you could be saving with mobile POS, or you can download the free Mobile POS software right away to see whether it will work for you.