Restaurant ERP is a system that integrates all aspects of a restaurant into one cohesive unit. This system provides features such as inventory management, order tracking, and financial reporting. Restaurant ERP can help restaurateurs manage their business more efficiently and improve profitability.
By bringing order out of chaos, an ERP system for restaurants. It can be used to monitor all facets of your restaurant's operations. Consequently, instead of wasting time putting out fires, focus on making adjustments that will strengthen your bottom line, such as concentrating on the difference between your actual and anticipated food price ranges.
There are many different ERP systems available on the market, so it is important to do your research before choosing one. In this blog post, we will discuss the benefits of using a restaurant ERP system and provide some tips for selecting the right system for your business.
All You Need To Know: What Is Restaurant ERP?
Running a restaurant can be a complex affair, and having the right tools at your disposal is essential for success. One such tool is Enterprise Resource Planning (ERP) software, which provides comprehensive automation for the business processes associated with the restaurant industry.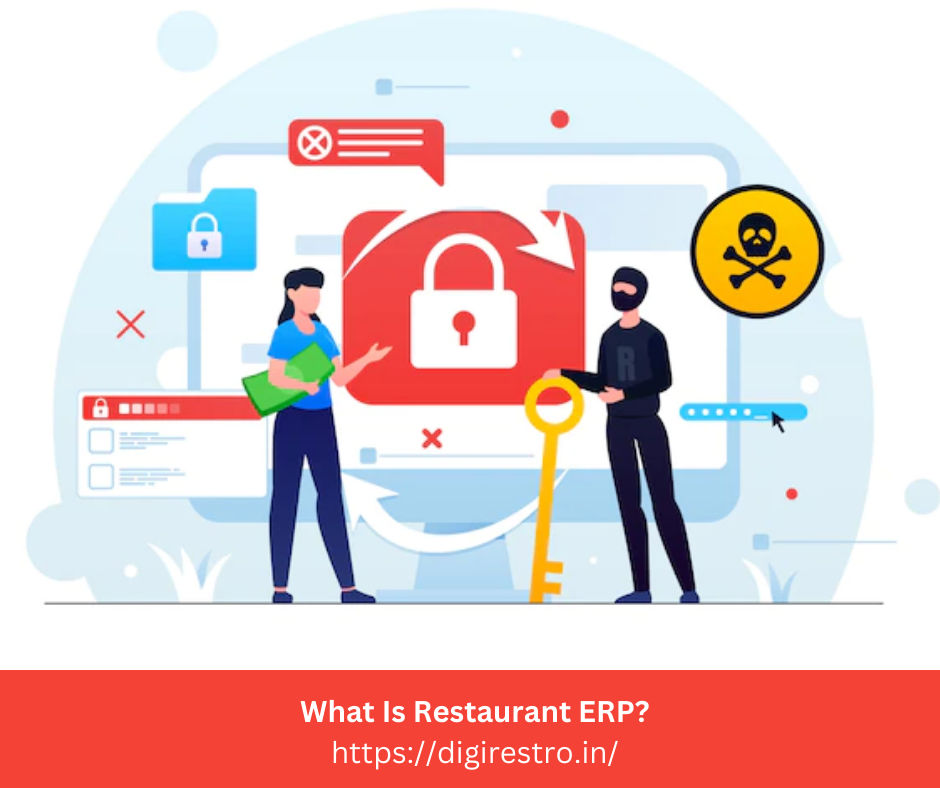 With this type of software, restaurant owners can easily track sales data, monitor inventory levels, and manage suppliers and vendors. The system also includes tools for human resources management and financial reports, allowing you to keep an accurate record of everything related to your business.
ERP software also offers features that make it easier to control costs, measure performance metrics, and develop strategies to increase profits. All in all, ERP restaurant software is a powerful tool that not only helps make operations more efficient but provides valuable insights into where your business stands and what improvements could be made.
What Is The Best ERP For My Restaurant Business?
Choosing the best ERP for your restaurant business can be a tricky task. You want an ERP system that will provide you with reliable and accurate data, as well as one that is easy to use and manage. You want a system that will improve customer satisfaction, increase profitability, and streamline operations within your business.
Before making a decision, consider all of the features offered by various vendors, such as inventory management capabilities, purchasing orders automation, customer relationship management functionality, labor time tracking options, cost reduction tools, reporting features, and comprehensive data analysis tools.
An ERP system that offers comprehensive solutions in these areas can heighten efficiencies across your organization while helping you deliver great customer experiences. Additionally, look for an ERP vendor that provides extensive training and support solutions to ensure that you are getting the most out of the system.
With some research and comparison shopping, you should be able to find an ERP solution that provides all of this in an easy-to-use package to better help manage your restaurant business.
What Is The Primary Goal Of Restaurant ERP Software?
For restaurants, efficient operations and customer satisfaction need to go hand-in-hand for long-term success. ERP software can assist in achieving both by centralizing essential operational operations onto a single digital platform.
From tracking inventory to processing orders, ERP systems help streamline the front and back-of-the-house operations without compromising on quality or customer service. In addition, ERP solutions provide valuable business insights such as sales data, customer preferences, and trends in order volume.
These real-time analytics allow restaurant managers to allocate resources more efficiently and devise business strategies that can bring more customers in the door. All in all, the primary goal of ERP software for restaurants is to facilitate seamless operations at scale and improve overall profitability.
By enabling accurate order processing, optimizing stock and supply management, keeping tabs on finances, and tracking performance metrics – ERP solutions provide all the necessary tools to ensure that restaurants are always running at peak efficiency while delivering quality experiences from end to end.
How Does Food ERP Software Help With Central Kitchen Management?
For central kitchen operators, managing their operations is a juggling act; not only do they have to keep track of inventory levels and distribution networks, but they also need to stay on top of incoming orders and staffing schedules too. This is where food ERP software can be a real help.
Automating the data management process, allows you to streamline your workflow and monitor every stage of your operations in one place. Additionally, it offers extensive reporting features so you can quickly spot areas for development.
In addition, some food ERP solutions come with integrated logistical tracking tools that make it easy to keep track of deliveries and transportation costs. On top of this, food ERP systems offer excellent forecasting capabilities so that you can predict upcoming trends and plan ahead for large projects.
All in all, food ERP software helps central kitchen managers manage their workflow more efficiently while keeping an eye on all stages of the process at once – a useful tool for any catering business.
How Much Training Is Needed To Use A Restaurant ERP?
As the food service industry continues to grow, so too do the complexities of running an effective restaurant. To manage inventory and prevent waste, a restaurant must invest in a restaurant enterprise resource planning (ERP) system.
A quality ERP solution can automate ordering, scheduling, and reporting functions, making operations easier and minimizing costs. However, an ERP is only as good as those that use it; for restaurants to get the most out of their system, staff members will have to receive the proper training.
For basic-level employees, a brief overview of the system's user interface and navigation should be sufficient; more advanced users might need to be trained in accounting software integration or master how to create templates and reports quickly.
Thankfully, most ERP vendors offer on-site training sessions with their experts—so everyone can become comfortable with their new program quickly! With the right training in place, restaurants can make sure they are using all the features of their ERP correctly while continuing to grow more efficiently day by day.
Final Thoughts
Restaurant ERP is a system that helps manage all aspects of a restaurant business. It includes modules for accounting, inventory, point-of-sale, and more. If you are looking for a comprehensive system to help run your restaurant business, then an ERP system is the answer.
There are many different systems on the market, so it's important to do your research to find the one that best meets your needs. We hope this article has given you a better understanding of what restaurant ERP is and how it can benefit your business.