The restaurant industry is changing, and it's adapting to changes in technology. One of the biggest changes happening in the industry is the rise of cloud kitchens & POS Software.
Cloud kitchens are restaurants that don't have a physical location, and all of their food is prepared in a central kitchen and then delivered to customers. Cloud kitchens offer several advantages over traditional restaurants, including lower overhead costs, smaller footprints, and greater flexibility.
They're also great for experimenting with new dishes or concepts that might not work in a traditional setting. If you're thinking about starting a restaurant or are already in the industry, you need to know about cloud kitchens and how they're changing the landscape.
All About Cloud Kitchen
Introduction To Cloud Kitchen
A cloud kitchen is a commercial kitchen that only provides food delivery, with no dine-in option. They are often located in urban areas with a high density of delivery orders, such as office buildings and residential complexes.
Recent years have seen a rise in the popularity of cloud kitchens due to the increased demand for delivery-only eateries. Operating a cloud kitchen has a number of benefits, including decreased overhead expenses, no requirement for waitstaff, and the capacity to reach a bigger consumer base.
Traditional restaurants may not be as adaptable as cloud kitchens, which may swiftly change to accommodate shifting customer preferences and fashions. For example, a cloud kitchen that initially focused on Italian cuisine could easily add a menu of Indian dishes.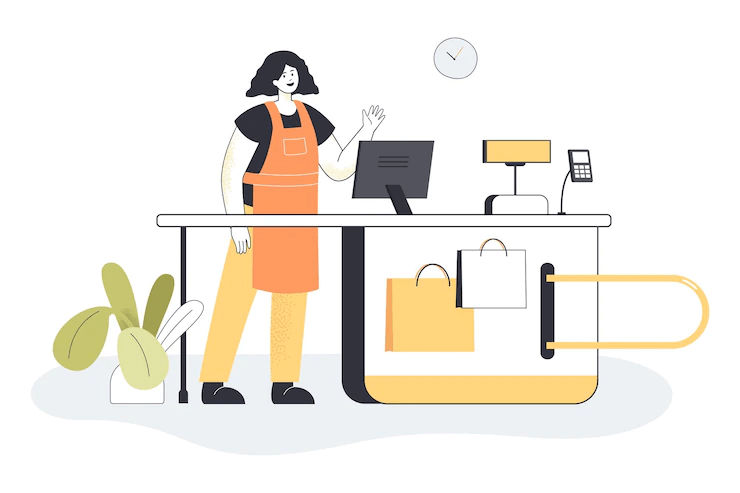 Use Of POS Software In Cloud Kitchen
The cloud kitchen industry is booming, and POS software is essential for any business looking to get started in this rapidly growing market. Cloud kitchens are defined as commercial kitchens that are solely used for the preparation of food that will be delivered to customers.
Because they don't have a dine-in option, they often have lower overhead costs and can be run more efficiently. As a result, POS software that is specifically designed for cloud kitchens can help businesses to streamline their operations and increase profitability.
Some features to look for in POS software for cloud kitchens include online ordering capabilities, delivery management, and real-time analytics. With the right POS system in place, businesses can take advantage of the many opportunities provided by the burgeoning cloud kitchen industry.
Power Of Cloud Kitchen
Since the pandemic, cloud kitchens have become more popular, and this trend is expected to continue because it is handy for both customers and the staff members of restaurants. People favor cloud kitchens more because they offer the advantage of providing them with tasty cuisine while also being safe and secure about it.
Instead of dine-in restaurants having long waits during peak lunch and work hours, cloud kitchens can process their delivery orders remotely.
You may automate your food preparation process by installing recipe management software, which will also provide you with a competitive edge in the market and help you achieve uniformity in the type and quantity of food produced.
Minimal Upfront Costs
One of the biggest advantages of cloud kitchens is that they require a minimal upfront investment. Unlike traditional restaurants, which can be costly to build and outfit, cloud kitchens can be set up quickly and relatively cheaply.
This is because they do not need to include amenities like seating or décor, and they often share kitchen space with other businesses. As a result, cloud kitchens can be a great option for entrepreneurs who want to get into the food business with minimal financial risk. Of course, there are some downsides to this model as well.
For example, cloud kitchens may have difficulty building a strong brand identity, and they may struggle to attract customers who are not already familiar with their products. Nevertheless, for those who are looking to enter the food business on a budget, cloud kitchens are definitely worth considering.
Exclusive Access To The Delivery Market
Working with food aggregators has many advantages. One is the prompt delivery of packages. Effective and timely order delivery is a crucial component. Ghost kitchens can help restaurateurs develop their brands by carrying out deliveries correctly.
Ghost kitchens help restaurant owners take advantage of the growing demand for delivery without risking their bottom line. They're also a great approach to reaching new areas without having to invest time and money in a conventional restaurant.
A number of new players have entered the market to handle restaurant delivery in exchange for a percentage of the total order value, including UberEats, Grubhub, DoorDash, and Postmates.
FAQs: Cloud Kitchen
Q 1: How Are Cloud Kitchens Changing The Restaurant Industry?
A 1: Technology integration and its role in the creation of cloud kitchens. Due to the growth and integration of technology, ordering and eating meals have experienced considerable changes. Cloud kitchens are currently transforming the food industry by using online meal-ordering apps.
Q 2: Why Cloud Kitchen Is The Future?
A 2: The strategy has many benefits over a dine-in restaurant, including reduced renting expenses, a lower setup cost in terms of capital, and lower operating costs in terms of staffing and overhead. Over the past few years, a lot of restaurants switched to the cloud-kitchen concept due to these intrinsic benefits.
Q 3: Are Cloud Kitchens Successful?
A 3: Delivery-only firms have benefited from economies of scale as restaurant delivery sales have grown significantly over time. Foodservice operators are drawn to this model for a number of reasons, including its low beginning costs, high-profit margins, and limitless development possibilities.
Q 4: What Does Cloud Kitchen Envision?
A 4: A novel idea for setting up a restaurant is the cloud kitchen. Instead of offering an in-dine option with this new concept, the restaurant brand offers food delivery to homes. Food delivery services have increased significantly over the past ten years, making this idea even more lucrative.
Conclusion
Cloud kitchens & POS Software are the future of the restaurant industry for a variety of reasons. They are more efficient, cost-effective, and environmentally friendly. They also provide chefs with opportunities to showcase their culinary skills and create new dishes.
As cloud kitchens continue to grow in popularity, we can expect to see even more innovative concepts and dishes being served up. Have you had a chance to try food from a cloud kitchen? If not, be sure to check one out soon – you won't be disappointed!
Read more about Kitchen Display System